The reinforced concrete parapets for bridges with the CE marking by PREFABRICADOS ALBERDI, S.A. with containment level H4b, the maximum defined, has been designed for installation on bridges, overpasses and the tops of walls supporting significant drops, where there is a high risk of falling. It is a successfully tested vehicle containment system, certified according to EN 1317 and with the obligatory CE marking issued by a certifying body approved for this purpose.
The concrete parapet has passed real crash tests in class H4b and has the obligatory CE marking according to the standard EN 1317.
This type of parapet is anchored every 1.5m to the bridge deck or a reinforced concrete band for this purpose. Using a special system designed for this purpose, these fixings allow a lateral displacement, although logically, more limited than for other barriers used with a single support.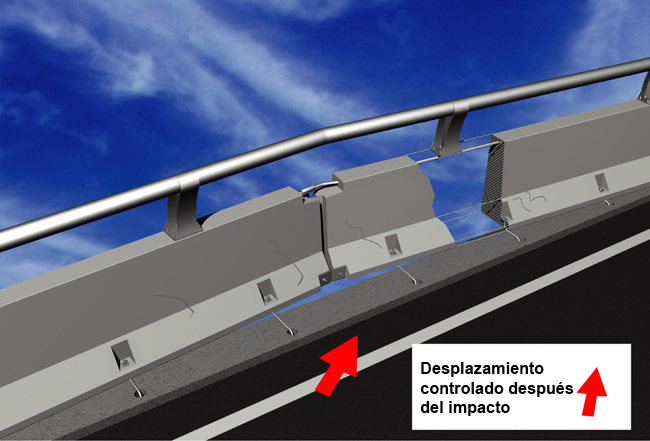 SPECIFICATIONS OF THE CONCRETE PARAPETS FOR BRIDGES WITH THE CE MARKING
The key characteristics of these parapets of concrete for bridges with the CE marking are:
- Their movement after impact is controlled.
- Reduces the deceleration experienced by the passengers ("plastic impact").
- Controls the path of vehicle after impact.
- Does not transfer the impact energy to the bridge structures.
This vehicle containment system model is fitted with an upper metal handrail firmly anchored to the reinforced concrete piece, with the function of preventing possible "roll over" the barrier itself, as a consequence of the reduced displacement. This type of upper protection is not useful in the case of barriers that are not fixed.
This parapet system by PREFABRICADOS ALBERDI, S.A. takes into account any situation or difficulty during the execution of any work, so there are all types of developments and technical solutions to solve them, such as expansion joints on bridges, possible high-hardness polypropylene level compensators, etc….

Contact us to request a quote.