Patented product
DESCRIPTION AND USES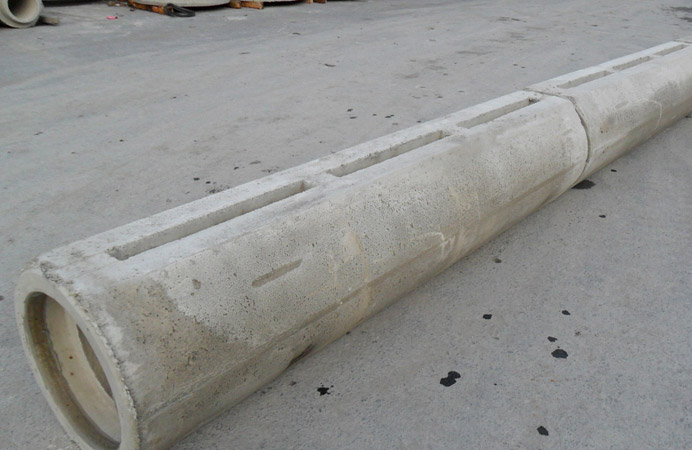 The HA reinforced concrete linear drainage channels by PREFABRICADOS ALBERDI S.A. are intended, principally, for creating grooved channels that serve as drainage for rainwater and collect any spillage inside tunnels to redirect it to the corresponding liquid extraction system.
They are pipes that guarantee tightness (tongue and grooved joint using the same type of separate gasket used for wastewater pipes), resistance (area subject to high loads of vehicles, for example, ports and docks) and durability (thanks to the high density of concrete and the use of additives against the chemical corrosion caused by the de-icing salts) of the pipe.
At the same time, the drainage channels guarantee environmental protection, as the run-off water polluted with oil from the vehicle transit surfaces (motorways, roads, petrol stations, parking areas, etc.…) does not reach the subsoil, and can be treated properly in oil settling tanks before outfall into rivers.
The method used for their manufacture is the same as for wastewater pipes, radial compression, producing "bell and spigot" pipes (hereafter TEC). In addition, it is simple to install on-site, and can permit a yield of up to 600m/day at any time of year.
TECHNICAL DATA
NAME AND REGULATIONS
ACCORDING TO UNE EN 1344:2003
DIAMETER
(mm)
CLASS
CRACKING LOAD
(KN)
BREAKING LOAD
(KN)
300
E-600
>400
>600
NOMINAL DIMENSIONS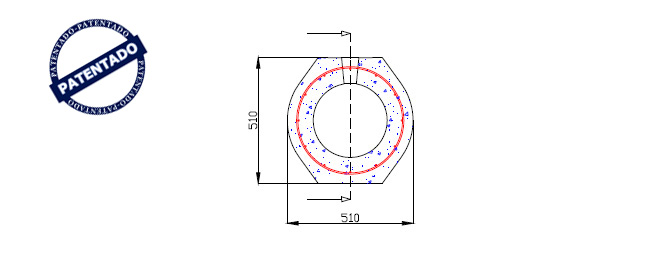 NOMINAL DIAMETER
(mm)
WIDTH
(mm)
HEIGHT
(mm)
THICKNESS
(mm)
LU
(mm)
LT
(mm)
WEIGHT
(kg/ml)
300
540
510
105
2,400
2,500
340
QUALITY CONTROL
The following tests shall be performed:
Compression resistance of specimens of fresh concrete
Analysis of the consistency of fresh concrete
Alkalinity and water absorption
Mechanical resistance: breakage test of the three edges
Tightness tests on the pipes and the gasket
PHOTO GALLERY