DESCRIPTION AND USES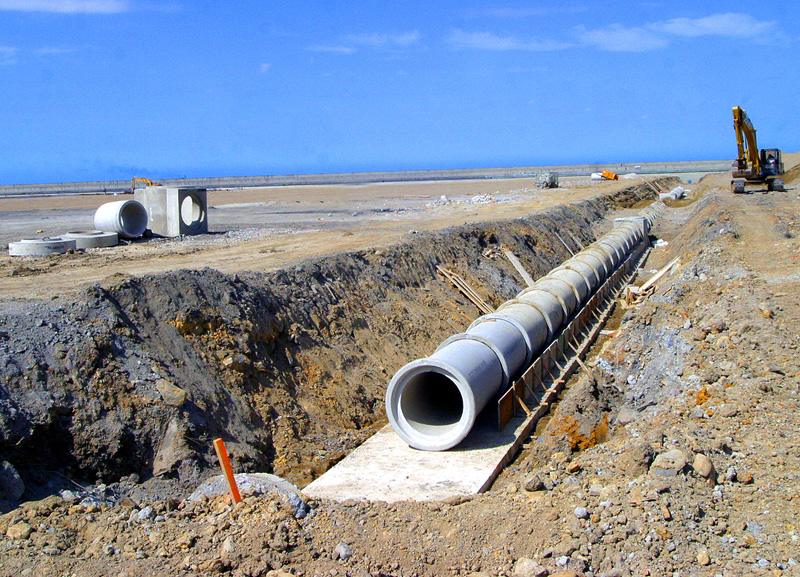 The HM reinforced concrete pipes by PREFABRICADOS ALBERDI S.A. is intended, principally, for underground pipelines, road drainage, black water or sanitation, rainwater and surface water by gravity or, occasionally, pressurised. Given their inner steel reinforcement, they are ideal for bearing considerable loads generated by road traffic or significant coverings of soil.
They can be classified according to their geometric shape and their manufacturing method. On one hand, there are the "bell and spigot" type pipes manufactured by radial compression (hereafter TEC) and "tongue and groove" or "halved joint" type pipes made by vibrocompression (hereafter TEM).
At the same time, the European Directive 89/106/CE of Royal Decree 1630/1192 establishes that reinforced concrete pipes must have the CE marking complying with the provisions of the current standard in force, UNE EN 1916:2003. This is why at PREFABRICADOS ALBERDI S.A. we mark all our pipes accordingly.
TECHNICAL DATA
NAME AND REGULATIONS: REINFORCED CONCRETE PIPES
RESISTANCE CLASS
Ff: Cracking load (KN/m2)
Fn: Breaking load (KN/m2)
ACCORDING TO UNE EN 1916
| | CLASS 60 | CLASS 90 | CLASS 135 | CLASS 180 |
| --- | --- | --- | --- | --- |
| Ff | 40 | 60 | 90 | 120 |
| Fn | 60 | 90 | 135 | 180 |
ACCORDING TO ASTM C76 M
| | CLASS I | CLASS II | CLASS III | CLASS IV | CLASS V |
| --- | --- | --- | --- | --- | --- |
| Ff | 40 | 50 | 65 | 100 | 140 |
| Fn | 60 | 75 | 100 | 150 | 175 |
Reinforced piping by radial compression
TEC PIPE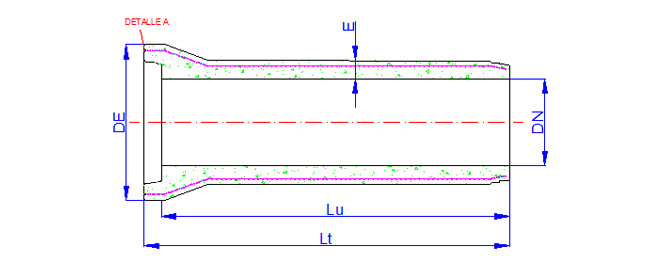 DN
(mm)
DE
(mm)
E
(mm)
LU
(mm)
WEIGHT
(kg/ml)
300
540
55
2,400
175
400
680
62.5
2,400
271
500
780
70
2,400
355
600
910
76.5
2,400
492
700
1,040
85
2,400
585
800
1,150
95
2,400
727
1,000
1,405
110
2,400
1,055
1,200
1,675
125
2,400
1,460
1,400
1,900
145
2,400
1,840
1,500
1,900
150
2,400
2,050
1,600
2,240
160
2,400
2,640
1,800
2,295
180
2,400
2,845
Reinforced piping by vibrocompression
TEM PIPE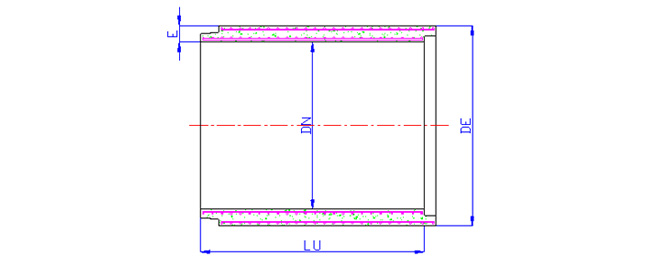 DN
(mm)
DE
(mm)
E
(mm)
LU
(mm)
WEIGHT
(kg/ml)
1,600
1,940
170
2,400
175
1,800
2,180
190
2,400
3,010
2,000
2,400
200
2,400
3,350
2,500
3,000
250
2,400
5,250
3,000
3,600
300
2,400
7,775
QUALITY CONTROL
Tightness test using the air leakage test on 100% of the pipes manufactured the previous day (up to Ø1200 included).
If the pipes are manufactured in batches for a particular client order (subject to a surcharge), in addition to the aforementioned test, the following quality control will be performed:

Compression resistance of specimens of fresh concrete
Analysis of the consistency of fresh concrete
Alkalinity and water absorption
Layout of the reinforcement
Mechanical resistance: breakage test of the three edges
Hydrostatic tests (up to Ø1200 included).
Tightness tests on the gasket

PHOTO GALLERY