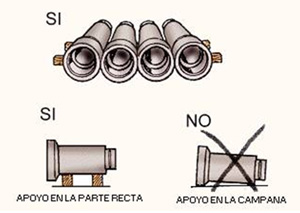 The pipes are generally stored as close to the point of installation as possible. Pipes with small diameters may be piled in the same way as they were loaded on the truck. The pipes must be stored horizontally, except when a rigid floor that guarantees vertical storage in suitable safety conditions is available. The lower row must be paced on a flat surface, properly chocked to prevent movement. In each row of pipes, the bells and spigots must face the same way.
The bells in the following row are the other way round and are positioned on top of the spigots of the row below. The lengths of the pipes must be touching and the bell overhanging to avoid load concentrations.
The pipes can be stored on-site in the following ways:
A) Centralised piles
Clear areas of the site where the vehicles, cranes and other auxiliary elements for unloading can operate are selected. The piles of pipes must not be near open trenches.
The most frequent shape for the piles is a pyramid, where special precautions must be taken when chocking them to prevent them rolling. Excessively high piles should be avoided, so that the pipes in lower rows are not overloaded. The piles must not exceed the heights indicated in the following table:
Rows of pipes in a pile
Nominal diameter in mm
Number of rows of pipes
300-400
4

500-600

3
800-1,000
2
> 1,000
1
The safest way to position the first row is to deposit it on levelled ground, chocking four points for each of the pipes in this first row. The next row is placed in such a way that all the bells are facing the same way and protrude over the lower row, with the lengths of the pipes resting on the lengths of the pipes in the lower row.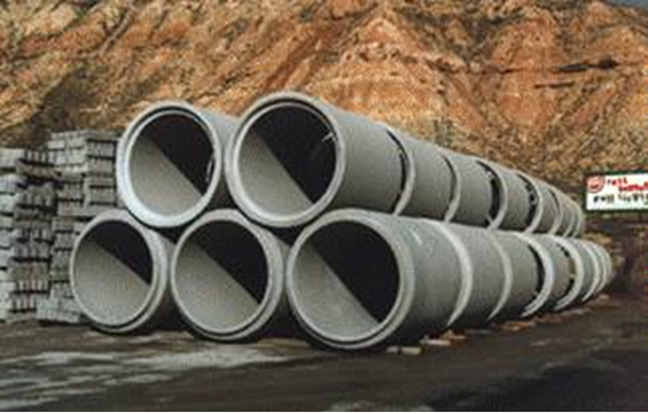 B) Linear storage
Storage along the trench must comply with the following criteria:
Fitting the pipes as near as possible to the trench leaving a suitable gap.
Leave the pipes on the opposite side to the excavation soils.
Ensure that the pipes are not exposed to the transit of site vehicles, blasting areas, etc.
Pipes must not be stored on site for long periods exposed to the weather. If this is inevitable, they must be properly protected (e.g. prevent contact with the ground, prevent exposure to the sun, etc.).
During the storage work, if damage to a pipe is detected, it must be put aside, marked and stored separately.